All-Star Project Preps LP Featuring Dave Grohl, Slipknot's Corey Taylor
expand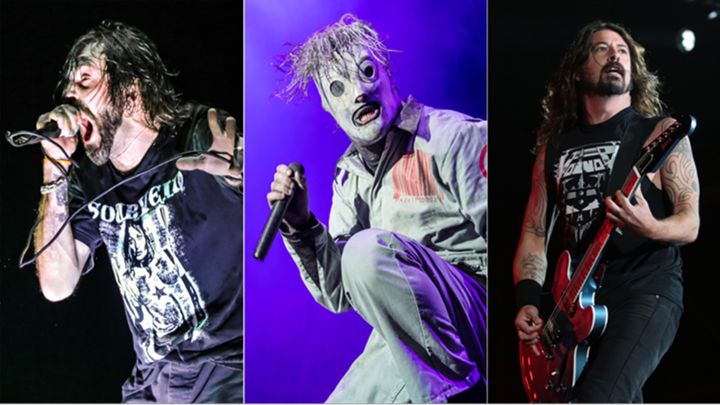 Teenage Time Killer, a supergroup spearheaded by members of alt-metal vets Corrosion of Conformity, have signed a deal with Rise Records. A rep for the label confirmed the news. The band's debut will feature appearances by rockers ranging from Foo Fighters frontman Dave Grohl to Slipknot screamer Corey Taylor.
The band recorded the music for the record at Grohl's Studio 606 on the mixing board featured in the Foo Fighters frontman's Sound City doc, according to Kerrang!
. Although the label has yet to confirm a release date, one of the group's central members, Reed Mullin, told 
Indy Week
 it would come out in January.
Other artists who will appear on Teenage Time Killer's debut include Lamb of God's Randy Blythe, former Queens of the Stone Age bassist Nick Oliveri, Clutch's Neil Fallon, former Dead Kennedys singer Jello Biafra, Fear's Lee Ving, Off!'s Keith Morris and Prong's Tommy Victor. It will also feature current and former members of Misfits, Red Fang, Sunn O))), Bl'ast, Brujeria, My Ruin and Sacred Reich, among others.
In October, C.O.C. posted a minute-long video to their Facebook of Teenage Time Killer recording a hardcore-leaning song that featured guitar by Brian Baker of Bad Religion, Dag Nasty and Minor Threat fame. The video showed the band's nucleus, C.O.C. drummer Mullin and bassist Mike Dean, working with Ghost of Saturday Nite singer Jonny Webber on the song's vocals.
In November, when Indy Week asked Mullin if Teenage Time Killer would be touring, the drummer said it was still up in the air. "Dave Grohl's folks – his management and marketing people – are going to help us do all that with the thing," Mullin said. "We recorded about 98 percent of it at his studio. They were talking about...maybe do something like Kimmel and have three or four different singers come out at one time, like Jello and Lee Ving, maybe Randy from Lamb of God, something like that. All the songs are real short, so we could do, easily, four songs and not go over."
---
Published by
Molten
, 26.12.2014 at 23:45