Jack White To Release Bonnaroo Set On Vinyl & DVD
expand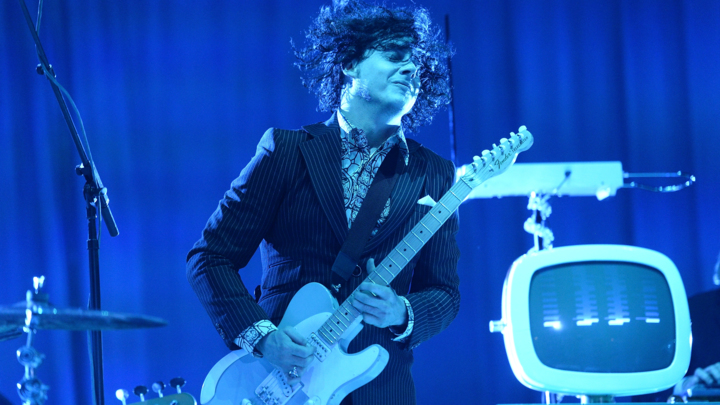 White unleashed an epic 26-song, 2:45 performance on the farm in Manchester on June 14 that included White Stripes classics such as "Hotel Yorba" and "Icky Thump" to Raconteurs numbers such as "Top Yourself" and "Steady, As She Goes" through "Blue Blood Blues" by the Dead Weather. His set also featured plenty of his solo material and covers of two surf rock classics "Pipeline" by the Chantays and "Misirlou" by Dick Dale as well as a take on Led Zeppelin's "The Lemon Song."
Here's what subscribers will get in the 22nd vault package:
Three vinyl LPs (white, blue and black), housed in a soft-touch, telescoping box, topped off with a lenticular television on the cover…this is by far the most ambitious Vault package yet. The audio has been mixed by Third Man's in house engineer, three time Grammy Award-winner Vance Powell and stands as a marked improvement over the on-the-fly board mix heard in webcasts, YouTube uploads and shady downloads.
In addition, there will be a DVD of the FULL performance, re-edited from the original raw footage by Brad Holland (filmmaker extraordinaire), for a truly memorable visual document of the evening.
We could've stopped there…but anything worth doing is worth overdoing, right?
Also included in the package will be four high-quality 8x10 photographs from the evening shot by David Swanson. Suitable for framing, timeless, these will increase the value of your home tenfold.
(said to the guys in production) "Is that all? NO?!?!? Are you kidding me? What else could we offer?"
Apparently we've lost our minds and gone as for to include a customized Jack White patch, a replica backstage pass sticker AND a poster in this beast of a package.
You want a custom-designed USB with super-secret extra added bonus materials too? Have at it.
All of those who subscribe by Halloween will receive the package.
Jack White Live From Bonnaroo setlist:
Icky Thump
High Ball Stepper
Lazaretto
Hotel Yorba
Temporary Ground
Missing Pieces
Steady, As She Goes
Top Yourself
I'm Slowly Turning Into You
Freedom at 21
Three Women
You Don't Know What Love Is (You Just Do As You're Told)
We're Going to Be Friends
Alone in My Home
Ball and Biscuit
The Lemon Song (Led Zeppelin)
Encore:
The Hardest Button to Button
Hello Operator
Pipeline (The Chantays)
Misirlou (Dick Dale)
Sixteen Saltines
Cannon
Blue Blood Blues
Astro
Love Interruption
Little Bird
Seven Nation Army
---
Published by
Molten
, 07.10.2014 at 17:02