The Edge Offers Bono Progress Report: 'He Basically Can't Move'
expand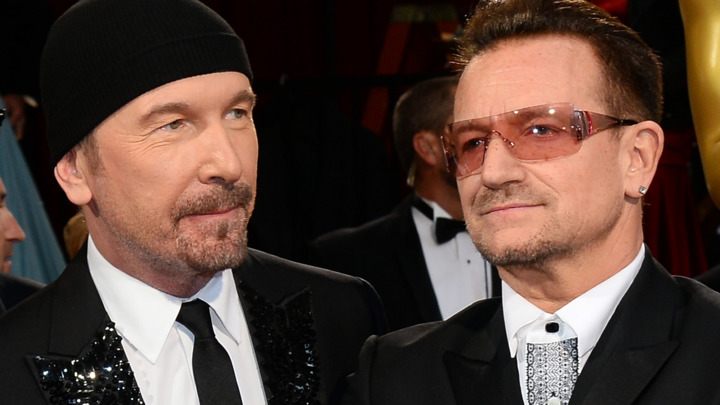 In November,U2frontman Bono suffered extensive injuries that required a five-hour surgeryfollowing a seriouscycling spill. "He's doing OK," guitarist-bandmate the Edge told KROQ, according toRadio.com, though hecomparedthe singer's physical conditionto the results of a "car crash."
In addition to a humerus bone fracture in his left arm and another fracture affecting the orbit of his eye, Bono also suffered a shattered left elbowandother injuries. "He actually showed us an X-Ray a couple of days later, and it looked like a miniature of the Eiffel Tower was in his elbow," the Edge said. "And then the same had to happen with a fracture of his pinky; the joint there was totally messed up, so that needed a bone graft. And the most vulnerable was actually his upper back, the scapula, because they couldn't put any plates in there or they decided not to do surgery."
Bono has been "doing physio to keep the joints active twice a day" in Dublin, and he "basically can't move for the next couple of months" in order to heal. But in spite of the seriousness of his bandmate's crash, the Edge still has a sense of humor about thehorrific incident. "We're kind of lucky he was wearing a helmet so he didn't actually break Central Park," he said. "But he's made of tough stuff, and he's bouncing back."
The bad news is that Bono's injuries will keep the singer from participating in KROQ's annual Almost Acoustic Christmas Show, which the band were set to headline. Without their frontman, the remaining band members performed as U2 Minus 1on Monday in Times Square, with Bruce Springsteen and Coldplay's Chris Martin filling in on vocals. "It was an amazing experience, but it did feel like we were cheating on Bono, I have to admit," the Edge said of the show.
Bono is expected to recover in time for the band's 19-city world tournext May, though thesingermay miss some additional appearances before then.
---
Published by
Molten
, 06.12.2014 at 15:01