Bruce Springsteen Tribute Concert With Neil Young, Elton John Headed to PBS
expand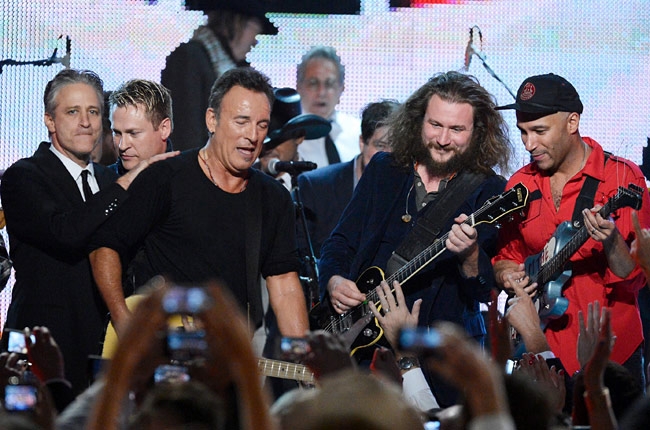 Bruce Springsteen's MusiCares Person of the Year for 2013 tribute concert withNeil Young, Elton John, Jim James and others is headed to PBS next month. 
The star-studded show from February 2013 at Los Angeles' Convention Center also included Patti Smith, Mumford & Sons, Sting, John Legend, Tim McGraw,Tom Morello, Mavis Staples, Zac Brown, Ben Harper, Charlie Musselwhite,Emmylou Harris, Jackson Browne and others, as well as Springsteen himself with the E Street Band. The event was released on DVD, Blu-ray and digital downloadearlier this year. 
Televised version of the Jon Stewart-hosted evening called "A Tribute to Bruce Springsteen," will premiere Dec 5 at 9 p.m. ET on PBS, as part of the network's Arts Fall Festival 2014.
MusiCares is a Recording Academy-established organization that provides emergency health and human services and addiction recovery assistance to those in need within the music industry. Its Person of the Year Award is given out annually to a musician whose career success is matched by exemplary charitable endeavors.
Watch Bruce Springsteen's acceptance speech from the evening here:
---
Published by
Molten
, 29.11.2014 at 02:55